Strong Tower - A Power Increase, Phase One
Prepared by Jim Hoge, President and General Manager for Z88.3's board of directors, staff, listeners and supporters.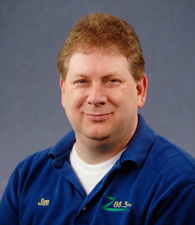 From the ends of the earth I call to you, I call as my heart grows faint; lead me to the rock that is higher than I. For you have been my refuge, a strong tower against the foe. I long to dwell in your tent forever and take refuge in the shelter of your wings. Selah
Psalm 61:2-4
The name of the LORD is a strong tower; the righteous run to it and are safe.
Proverbs 18:10
May 30, 2007 was a banner day in Z88.3's history. On that date, after nine long years, the Federal Communications Commission (FCC) issued a construction permit for a power increase from 2300 to 15,000 watts! According to documents filed with the FCC, this increase will allow an additional 265,931 persons to receive a quality local signal and improve coverage to all listeners in Z-land.
But there is more to the story. In Phase Two, Z88.3 can increase power beyond the coverage on the map below. This is the most exciting part of this project and the most complicated because of the ongoing complexity of governmental regulations and third party negotiations. Most of those tedious details are for another dissertation. But, I want you to be aware so you continue to pray for an ever stronger tower and expanding territories. Any time you need a progress report, have a question or need clarification on any thing discussed, or simply pickup the phone during business hours and give me a call on the office number: (407)869-8000.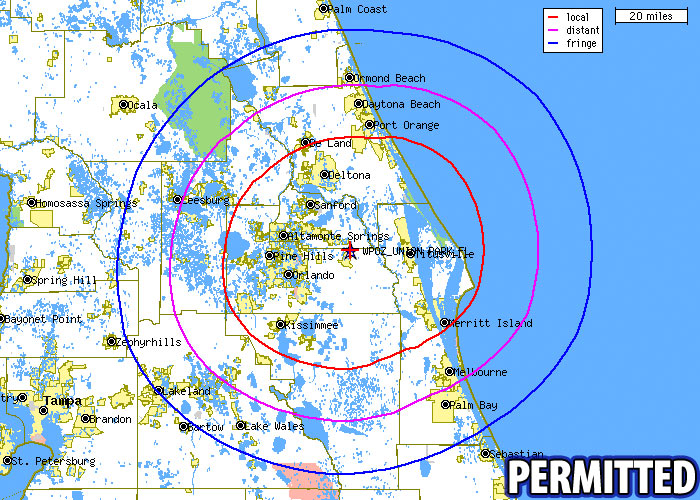 Strong Tower!
| | | |
| --- | --- | --- |
| Phase One: Funding the Granted Increase | $217,500 | 52.1% |
| Phase Two: Funding the Future Increase | $200,000 | 47.9% |
| TOTAL Project Need: | $417,500 | 100% |
Phase One: Funding the Granted Increase
A new antenna will need to be ordered for this project. If the antenna has enough "gain", an additional transmitter will not be required. (The higher the gain of the antenna, the less transmitting power is required.) This would simplify things in one area but complicate them in another. A larger, higher gained antenna may require us to strengthen the tower in order to safely hold the heavier antenna. So, we budgeted for a large antenna, additional tower strengthening, or, an additional transmitter, depending on structural reports.
To help explain this, if the structural report concludes that the tower is over-stressed, no matter what size new antenna we install, then we will simply order the highest gain antenna we can get, using the money we would have spent on the additional transmitter towards the strengthening. Please pray that we don't have to add an additional transmitter or reinforce the tower. This not only saves a boatload of money, which we can reallocate towards Phase Two, but also saves months of very risky construction.
There is one other minor wrinkle. We are in the process of modifying the construction permit issued by the FCC. Legally, this should not be a problem and should be granted very quickly.
To explain this: the 1,600 foot tower Z88.3 transmits from is owned by TV Channel 6, WKMG; and TV Channel 9, WFTV; in a company called TV Tower Joint Venture. Nine years ago, when we filed with the FCC for this increase, TV Tower recommended a site on the tower where Channel 24, WMFE-TV was located, for they were moving off to a new site. In the intervening nine years, WMFE-TV signed a new contract, but K92 FM, owned by Cox Radio, moved off. When K92 left, this was a huge blessing as they donated equipment which included a transmitter, plus over 1,400 feet of very expensive transmission line to an even higher spot on the tower than Channel 24. In 2002, we filed an application to utilize this space and come out of the Channel 6 diplex arrangement. This improved our signal greatly even though it was not the power increase but a modification of the existing facility. With the construction permit being issued on May 30th, we simply have to amend to our higher spot on the tower reducing our power slightly to prevent overlaps with adjacent frequencies.
Last summer, the transmitter donated by K92 was retired to standby service with the installation of the new HD transmitter. The details of that construction is chronicled in this photo blog If you donated last May to this project, God bless you! At this writing, both WPOZ 88.3 and WMYZ 88.7 are transmitting using the HD Digital Radio® technology, broadcasting youth oriented Y-Hot and The Rock in addition to Z88.3, in high def.
By the way, one of the biggest reasons for this and any subsequent power increases is the success of the HD project and the RadioY outreach. HD currently is received well within the red (local) circle on the map above. Enlarging that circle not only makes the HD available to more people, but allows the normal FM signal to penetrate downtown office buildings and many stores, shops and homes for the first time.
Phase Two: Funding the Future Increase
Lord willing, our goal is to get a future upgrade that could take us to 100,000 watts - the maximum allowed by the FCC. In order to accomplish this feat, we are going to have to get very creative and work hard. Christ said, "He who is faithful in the little things will be faithful with big things." We want to be found faithful with whatever facilities that our Lord has chosen to bless us with in the present, but faithfulness also means to always strive to maximize the reach and effectiveness of the ministry.
Over the years, we have bought additional facilities on 88.1, 88.5 and 88.7 FM. This is no accident as these frequencies interfere to some degree or another with 88.3 FM. By owning and controlling these interfering facilities, we can move and modify them at our pleasure to enhance coverage. Recently, we have entered into negotiations with organizations on the same or near frequencies that would impede the request for a further power increase for Z88.3. The amount budgeted for Phase Two continues us down the road of litigating, negotiating and acquiring. God has always gone before us. He has protected us and He has also provided the money when we needed it.
Pray for favor with the these organizations, FCC and expertise from our lawyers and consulting engineers. Please pray that God would give wisdom, favor and open doors. Then watch how our God will provide in His timing!
Timetable for Strong Tower and Beyond
Within a couple of weeks, we should know if we have to strengthen the tower to hold our new antenna. If we dodge a bullet and are able to construct without having to modify the tower, we could be on the air with the increase in a few months. However, if major tower construction is required, this could bog us down for a year, depending on how fast engineering, permitting, fabrication and a crew is available to do the work. Again, please pray that we can squeak through the antenna we need without having to do much to the tower.
The legal work is already underway to file the next upgrade with the FCC. We are going to need the cooperation of both TV Tower and Channel 6 to accomplish these projects. Please pray that God would open doors and move on hearts at both these companies and that they would prosper and be blessed.
Why the term "Strong Tower"?
From the passages from Psalms and Proverbs above, it is obvious that God is our Strong Tower. It is, of course, an illustration. A strong tower is something that the ancients built in order to defend themselves from their enemies. I don't know if you have seen some of these large towers in different parts of Europe, such as in the Highlands of Scotland, but evidently in the days as far back as the Old Testament, when life was simple and primitive, they used to build stone structures. They were solid, thick, almost impregnable - and when some raiding enemy came by land or sea, our ancestors would leave their fields and their flocks and they would all gather together - men, women, and children - and there they were safe. The enemy could not get in. It was a strong tower.
That is what this is all about - safety from the thief who comes to rob, kill and destroy. Where do you go to get safety? Read again the words of the passage in Proverbs 18:10, "The name of the LORD is a strong tower; the righteous run to it and are safe." The Bible tells us that there is no safety except in God. God is the safety of those who trust in Him. If you would like to know more, please click here.
In modern times, towers are used not for defense but for communications and broadcasting. We want to point Central Floridians to safety - especially when the storms of life come. To do this effectively, our tower needs to be a strong tower. Just as the ancients built strong solid structures, impregnable to their enemies, we too want to build a strong tower broadcasting far and wide the Good News of redemption found only in Christ's work on the cross.
* * * * * * * *
Thank you for taking the time to read this! May God move on your heart to stand with us. If so, and you desire to make a pledge, please click here to do so on our secure server. Again, if you have any comments regarding this budget or the operation of the stations, please feel free to contact me directly by .
Your partnership is vital to this project!
Respectfully Submitted,
Jim
James S. Hoge,
Z's President and General Manager
The Legal Stuff:
Contained herein is the proposed